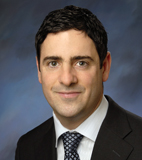 Vice President
License #01468737
Joel's focus on achieving client goals, strong work ethic, commitment to excellence, high ethical standards and personal integrity have enabled him to maintain long term relationships with his clients. Given his strong interpersonal and negotiation skills as well as his ability to listen to and cater to the specific needs of his clients, the majority of Joel's business includes tenant advisory and consulting for businesses and non-profits in the East Bay office market. As an advisor to his clients, Joel provides focused services including assisting with renewals and relocation negotiations, providing present and future needs analysis, strategic planning, market surveys & comparisons, financial analysis as well as purchase versus lease evaluations.
In 2009 and 2010 Joel was honored as the #1 Agent in the Emeryville and Oakland offices. In both years he was also honored as the 16th agent on the prestigious Cornish & Carey Commercial Newmark Knight Frank Company Wide Top 20 list out of over 300 agents. In 2007 and 2008, Joel was named a Top Agent in the Emeryville and Oakland Offices. Joel was honored in 2005 by Cornish & Carey Commercial Newmark Knight Frank as one of the Company Wide "Top 10 Rookies." His focus is representing international, national and regional tenants occupying office space in the East Bay market.
Education
Joel attended the University of Washington and graduated in 1997 with a Bachelor of Arts degree in International Studies.
Personal Information
Outside of work, Joel and his wife enjoy their time with their two year old son. Joel also finds gratification from visiting with family and friends, spending time in Lake Tahoe and traveling internationally.